Invitation Pocket Folds
Our handmade pocket folds are made in Seattle, and are the perfect compliment to any invitation. We offer many different paper option to complement your invitations.
This earth friendly pocket fold invitation shell can be used with custom printed invitations or your own print at home invitation inserts.
Each one measures 5x7 when folded shut and almost 13" x 7" when laid flat. The pocket has enough room to comfortably hold your reception card, reply card and reply envelope (should you need one). These should not be mailed without an envelope (envelopes not included). These fit in A7 envelopes.
Lotka Paper Pocket Folds

Natural, Nonseed cream Lotka - $0.75
Our most popular option! This paper has a wonderful texture on the outside and is a warm cream color that complements all of our papers.

Seeded, Vegetable Dye Pocket Folds - $1.00
These are dyed with all natural dyes and embedded with wildflower seeds that will sprout if planted. Select from five colors.

Dyed Lotka Paper - $0.75
These vibrant pocket folds do no contain seeds.

Cotton Paper - $2.63
This is our handmade cotton paper made in Seattle and embedded with wildflower seeds and petals. Choose from many options that we have in stock!
Our handmade papers are formed one at a time with a mould and deckle. They are made with 100% post industrial waste and are 100% tree free, acid free paper. Embedded in this stock is our unique North American Wildflower seed blend. The seeds will need four hours a day of direct sunlight with constant watering until established. The plants can grow to as tall as three feet. The seeds include Spurred Snapdragon,Tussock Bellflower, Creeping Thyme, Lilac Godetia, Foxglove, Catchfly, Monkeyflower, English Daisy, Red Corn Poppy and Showy Evening Primrose. This blend is specifically designed to allow us to print directly onto the handmade seed paper and for safe propagation across North America.
This card has the text printed on the textured side of our stock, on the reverse is a smooth surface that feels luxurious under your fingertips.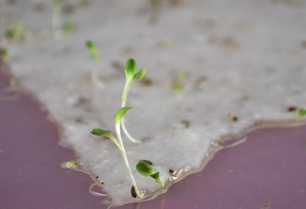 Germination may begin as quickly as one week or may take up to six weeks depending on your regional growing zone and planting depth.  We recommend just 1/4 inch of soil coverage.

Copyright 2022 All Rights Reserved - Of The Earth 7706 Aurora Ave. N Seattle, Washington 98103
Local/International 206.462.7022, Fax 206.462.7024 Toll Free US 1.888.294.1526