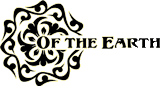 Earth Satin
After an exhaustive search for the perfect blend of quality, eco-safety and affordability, we are proud to offer our own line of double faced satin ribbon. We are sure that you will agree that these ribbons are pure pleasure for your eyes and hands. In addition, our ribbon production and facilities conform to the Oeko-Tex standard, recognized as the most important eco-label for textiles in the world.
Our double faced satin ribbon is 100% polyester, comes in 48 colors, four widths and is sold on 50 meter spools. Processed with only environmentally friendly dye stuff.
Order a sample now to see for yourself.
Due to the 2009 US Trade Department ruling, this line is now subject to a 225% antidumping tariff. This has forced us to make the difficult decision to no longer import Earth Satin. We have a large inventory still but once a color is gone, it will stay sold out.
Prices
3/8" - $14.50
5/8" - $19.00
1" - $26.00
2" - $68.00
Forget-Me-Not

Blue Lotus

Flaxflower

Vinca

Lavender

Aster

Lupine

Hyacinth

Kaffir

Vetch

Vanda

Hemp

Leek

Yew

Hemlock

Alfalfa

Fennel

Acacia

Hellebore

Solidago

Meadow Rue

Poppy

Larch

Loam

Buckwheat

Sugar Bush

Yucca

Sumac

Nettle

Quince

Acorn

Rosa

Honeysuckle

Checker Mallow

Sidalcea

Mirabilis

Fuchsia

Canum

Pimpernel

Safflower

Sycamore

Hollyhock

Kochia

Horsechestnut

Myrtle

Eggplant

Arrowwood

Blackthorn

54.7 yard spool - 3/8" - $14.50

54.7 yard spool - 5/8" - $19.00

54.7 yard spool - 1" - $26.00

54.7 yard spool - 2" - $68.00
Earth Satin Sample Set - $20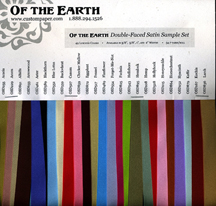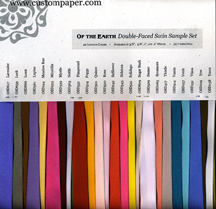 Copyright 2022 All Rights Reserved - Of The Earth 7706 Aurora Ave. N Seattle, Washington 98103
Local/International 206.462.7022, Fax 206.462.7024 Toll Free US 1.888.294.1526
Paper
Flowers
Kits
Ribbon
Favors
Supplies